There's something happening in Belgian ad world this week. The site of some major agencies are on a strike.
On a strike?
Yes, it's a protest, organized by an organization called ACC, a self-regulating organ that tries to outline the way pitches should be organized here in Belgium. A noble goal, really. As you might know or not, a pitch is a process where an agency is in competition with other agencies, trying to win the account. As you can imagine, a pretty intense process that indeed can suck-up quite some resources, creativity, money even .. so yes, I do believe in some kind of regulation. Rules the ACC promote are for example: only 4 agencies, don't steal creation, .. pretty straight-forward ideas to be honest, but as you can imagine, clients don't always feel the same.
And this is what the strike is about. To bring a clear and simple message: don't abuse.
That's why you'll find the websites of these agencies replaced with an open letter, that you can find after the break (screenshots, the text isn't copy-paste friendly .. let's not get started about share-ability)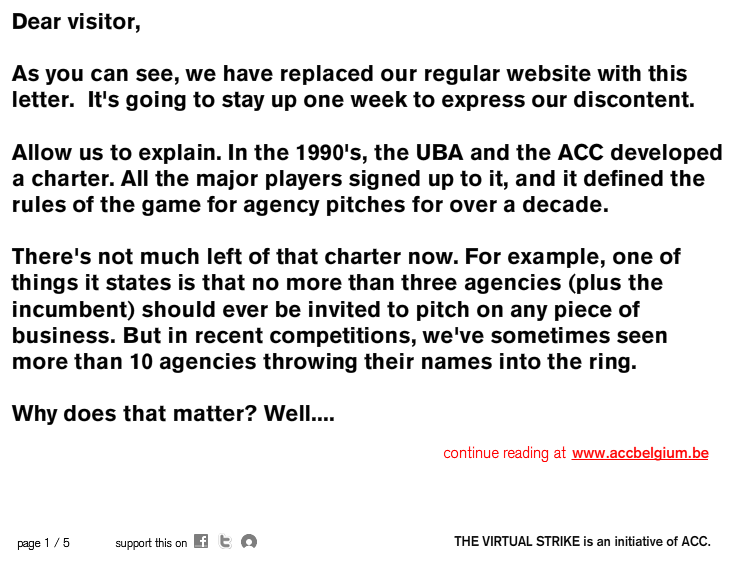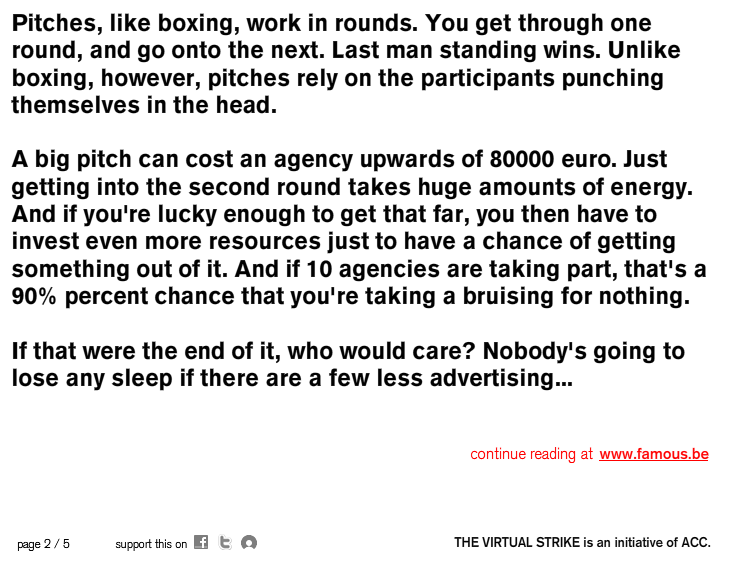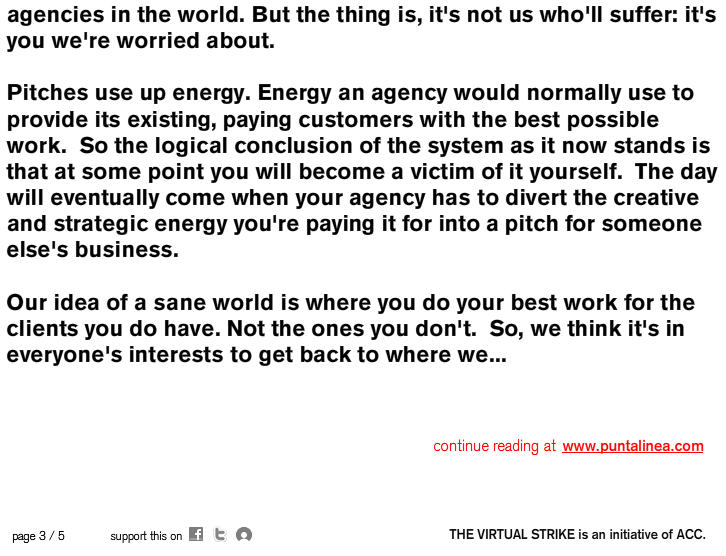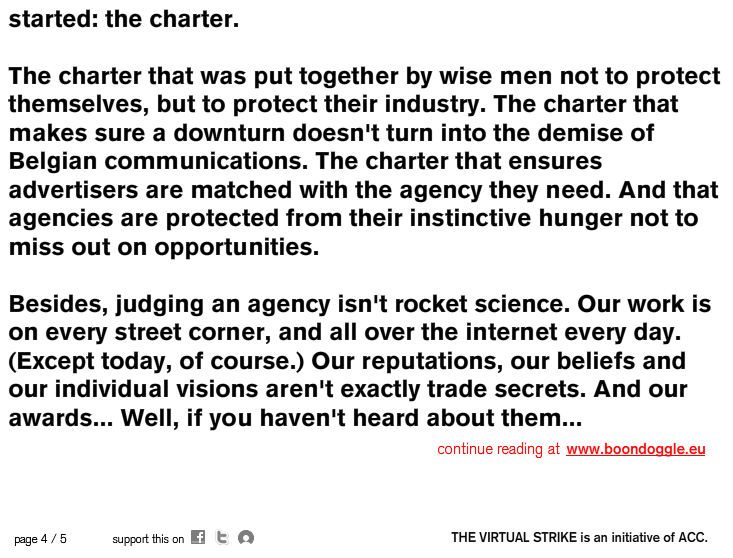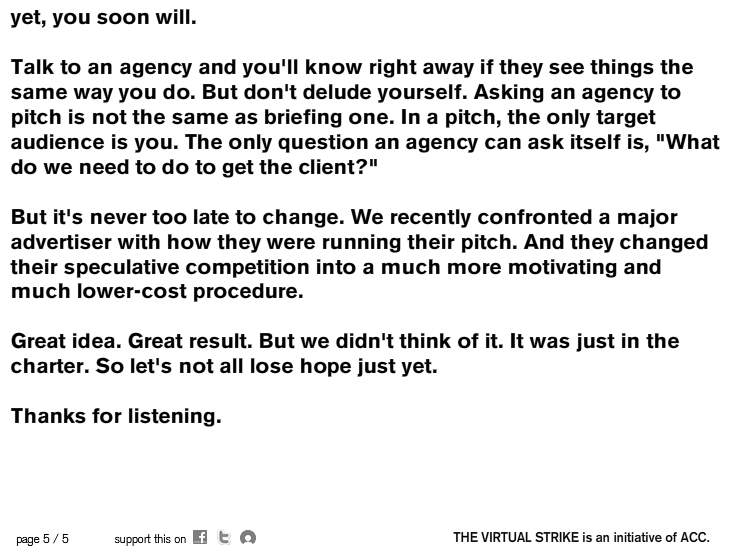 Now what to think about this? To be really honest, I have mixed feelings. Like I said, I do support the ACC, and I think it's important to step up, share your believes and try to cultivate them. However, for me, this is whining. Begging the clients to please please respect the ACC.
I think this can be achieved much more efficient: just say NO. You're in control. If a client ask your agency to pitch, tell them you want to, but that you support the ACC. If the client doesn't, very sorry, skip the pitch. If every agency (or even just the ACC members) would do this, there wouldn't be a problem, at all. I know it's hard to pass a really great opportunity, but how great is this opportunity anyway when you could end up in an endless, expensive, unfun, pitch proces? Just say no, play ball, hard ball.
Something very stupid, that in my mind would be a hundred times more effective, very low tech, could be something as stupid as a flyer. Plain A5, nicely designed, great copy, with the most important ACC rules on them. When a client invites you in a meeting, you slip it into her hands. You explain why (the same story that hijacks your websites now) and ask the client if she's willing to play by these rules. If she doesn't, walk out!
Agencies supporting this (so far)
BTW: Where's the (sector) press reporting this? I'm probably the slowest blogger in Belgium, and couldn't find anything .. That's maybe even more sad ..
Update: I updated the list of agencies participating. This naturally means my screenshots are no longer exhaustive, but you get the picture.
Update 2: It seems the same text is just stretched over more websites, so the screenshots are complete.
Update 3: See the ACC charter here (dutch) or here (French) – Both in pdf
Update 4: charter in English