I pity this guy!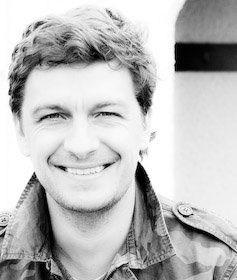 I pity this guy because he's so passionate about chocolate he can't turn it into his profession. He can't because joining the established chocolate manufacturers here in Belgium is just below his standards. It's not that it's all bad .. but this guy only settles with the best. Top notch. No compromises.
I pity this guy, because when he tells me if he didn't had a wife and kid he probably would've moved to Canada or some other place where he could do something real with his talent and passion, I know he's not lying. He's telling this in a non regretful way, he's just stating the facts. He frames his passion.
I pity this guys, because when it comes to chocolate, people are ignorant. They think they know what he talks about, except they don't. So he has to convince them, one soul at the time.
I envy this guy, because I know he will turn it into his profession, one way or another, one day or another. I know he'll find a way to cash in on his passion (cf Gary Vaynerchuk), because that's what he does.
I envy this guy, because he's walking the talk. He's doing it, whatever conditions; wrong place, wrong time. He's not one of these morons, like me, always blabbering about good ideas, never executing them. He's doing it, one step at the time.
This guy is Evert-Jan de Kort. His parents must have known he'd be capable of doing 2 things at the time when they gave him 2 first names. And I wish him all the luck in the world!
Oh yes, I'm writing this post in the first place, because I attended a Whisky-Chocolate tasting last week. Evert-Jan teamed up with Whisky Import Belux (another guy following his passion, although whisky is a bit easier than chocolate), and we were able to taste some excellent products and combinations. Good times! Evert-jan's project is called Choqoa, and if you want to know about chocolate, anything, just ask him