A social media addict that is. That probably why I don't blog that much lately. Not that I don't want too .. and I do have as many bad ideas as before .. but I just waste all my free time on twitter and facebook.
Luckily I'm not alone. If I was, it would be very lonely online, and it never is

Recently, some guy named Jerry started a self help group. If your even close to using social media, I recommend viewing this video of a meeting. It is truly inspiring, and .. yes, recognizable.
As you might have seen it at the end of the video, this is actually an advert. It's an advert we at Nascom created to build awareness for the new Sony VAIO W-series. This is actually a netbook, a segment that's completely new for Sony, and we thought social media was a good way to challenge this concept. It's not an in your face conversion based campaign, and kudo's to Sony for letting us do this. What we want to achieve is people to remember Sony now builds small pc's, perfect for on the go. Perfect to keep in touch with your social networks (ao) wherever you are.
Yes, we want this to be a viral campaign. We hardly have spend any money on advertising (we bought a few blog banners via Adhese though) and hope the campaign is picked up via the same social media we use in our campaign.
The homebase of the Social Media Addicts Association (or SMAA) is the website http://www.stopwritingonmywall.com. Here you'll find tips to kick your addiction. Together with some confessions of true addicts, of which I find the following the most funny:
There are some more. And better: you can add your own if you like!!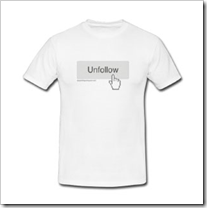 So is it working? So far the results aren't that bad at all. We have about 12.5k views of the main video, and twitter buzz is going great as you can see here and here. Blog coverage is picking up as well.
We also have some t-shirts! These can be ordered for real if you like. To bad the "fakebook" submission was kicked :/
To conclude: I think this is a very nice campaign, at least it was very fun doing. Pretty curious what you all think about it. We can absolutely use some support to keep the campaign going, so if you want to blog or tweet about it yourself, this would be absolutely awesome. It would be very cool if some big sites could pick us up. Apart from that you can help by digging the video. Curious how it turns out, and I make sure to share some results afterwards.
By the way: the videos are produced by Caviar, and they did a terrific job