I'm attending FITC (Flash in the Can) Amsterdam, well as we speak. In fact I'm sitting in the hotel room catching up some work, while Sakri (my brilliant colleague) is finishing his presentation he has to bring first thing tomorrow. He has spent an awful amount of time on it, and it's going to be great! His talk is about cool text effects in AS3 and if you know any more events he could bring this talk let me know. It would definitely payoff the work put in it.
Anyway, this morning in the keynote session we were teased by Lee Brimelow to attend a little competition he has set up. You should extract some coordinates from an image and take it from there. I just found out the competition ended, and you should just read here how it went. I love this kind of searches, great story!
My highlights of day 1 FITC.

Feed the expert by Carlo Blatz. Carlo is founder of powerflasher, a German based flash studio. I found it particularly interesting because powerflasher and Nascom (the company I work for) kind of started from the same food, and heading in the same direction. However, powerflasher seems to be transformed a bit further so far, and I think we can learn from each other. Starting from an interactive production house and transforming to this + on top product development (they developed FDT, well known in the industry) + building out a decent and innovative lab. The session was just about this and how to stimulate creativity throughout the company.

Everything was beautiful and nothing hurt by Florian Schmitt of Hi-Res. They have such an inspiring portfolio. You might remember early work as Requiem for a Dream and Donnie Darko. I loved this sites the minute they came out, and still love them now. Or what about more recent work as the Nokia E71 experience site! They just keep experimenting and inventing themselves over and over.
(Yes, the title of the presentation is a Vonnegut quote!)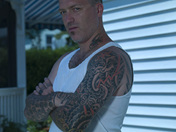 Then last but not least, there was the man himself: Joshua Davis! If you don't know him: he's a graphical artist using a lot of programming to create his work. It's about randomness, but using patters at the same time. Lot's of cool colors and repetition. He's just making lovely stuff and having a lot of fun doing so. Add to that that he's a fantastic speaker, and you understand the room was packed floor to ceiling. You might think he's just lazy: let the code do his work, and that's probably true to some degree. On the other hand, he's adapting his code that way so he can export the vectors and tweak them manually: a hell of a job. Let's just say he's a smart guy and has a great sense of taste! This was my favorite session so far, and by the look of the audience, I wasn't alone